Orange
-you-glad I wrote this post, well you might not be but I am quite excited. This week's Look of the week had my addiction ready to share with the world. My love of orange came at a very young age, not being able to choose a favorite color so I had 2 growing up. Although its still in the line up for favorite colors, blue pretty much stole my heart for the number one spot.
Orange
will always be there for me, although always being obsessed with it, never can I find it. Im beginning to think that there's an
orange
drought.... well let me correct myself, there isssss
orange
out there, but I cant find anything worthy of the beautiful color
orange
, besides tacky club shirts, or the basic T... Can I pleeeeease get a pencil skirt, patent leather bag (thats not in the quadruple figures), long sweater, or at least a unique dress... alas. Nothing. Im beginning to think that only
orange
in my wardrobe is going to consist of my Kodak Digital Camera (which I do keep on me at all times) and my
orange
mesh tank... the label slips my mind at the moment - probably since I have YET to wear it. barg. for a spring 08 trend color, WHERE IN THE CRAP IS IT!? I am kind of going ballistic but have you seen it with nudes, greys, browns, black or white. Its pretty much the warm toned jewel in the warm color pallet, like purple is to the cools.
But lets not get confused now. Im not talking apricot or peach... toned down
oranges
, beautiful. But im looking for more of a balls out punch of
orange
, not quite neon... but pretty dang close.
Need some examples? try Spring/Summer 08 Favorites for love at first sight pieces of
orange
.... I wish I could afford right now.
But seriously how can one not be obsessed with this exotic citrus color, its almost memorizing. Although this is a color presented as a trend for spring 08, its much much more versatile than just a seasonal color, its a year round classic color that gets overlooked. - Yet if you get more into the peachy tones, yeah id lean more towards s/s season myself, but again... I want REAL bright
orange
.
First I was quite fearful of the pigment, we all think "I dont want to look like its halloween"... yeah Ive said that a few times, but it was more of a who gives a shit kinda attitude and just going for it, although
orange
is not often seen in fall/winter (besides halloween and thanksgiving to the American residents) I wish I could find some now, so I could layer and combine looks for the upcoming F/W season. There is only one collection so great, so edgy... I needed
orange
back in my life. Paulo Melim Andersson, although spending a short time at Chloe, being replaced by Hannah MacGibbon...He mastered the art of
orange
. Making every woman lust for it.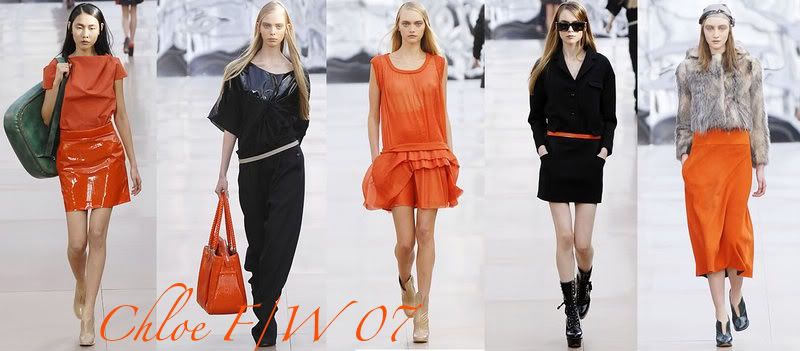 I need that bag, belt and everything from that collection (note the obsession on those mid-cafe black boots).... I guess ill just have to continue my mission... Perfect
Orange
I will find you!
(note

orange

color highlist for emphasis ha ha) ♥